HOUE is a Danish design house founded in 2007. We are driven by affordable luxury as a philosophy, by choosing the right materials and solutions.
We combine great comfort and design in our work. Therefore, we always put a lot of effort into our product development striving to meet a high standard of craftsmanship. Every detail, joint or component in our furniture is thoroughly chosen or invented by our experienced HOUE team to make a unique product.
HOUE offers both an outdoor and indoor collection, always meeting our high standards in terms of design, price and quality.
At HOUE we want to ensure the right steps are taken in creating responsible furniture, considering both social and environmental impact. With this in mind we aim to make recycled materials a part of our furniture development, and our NEWS for outdoor season 2021 contains both recycled fabrics – and even recycled household plastic trash. Above, you will get a sneak peek.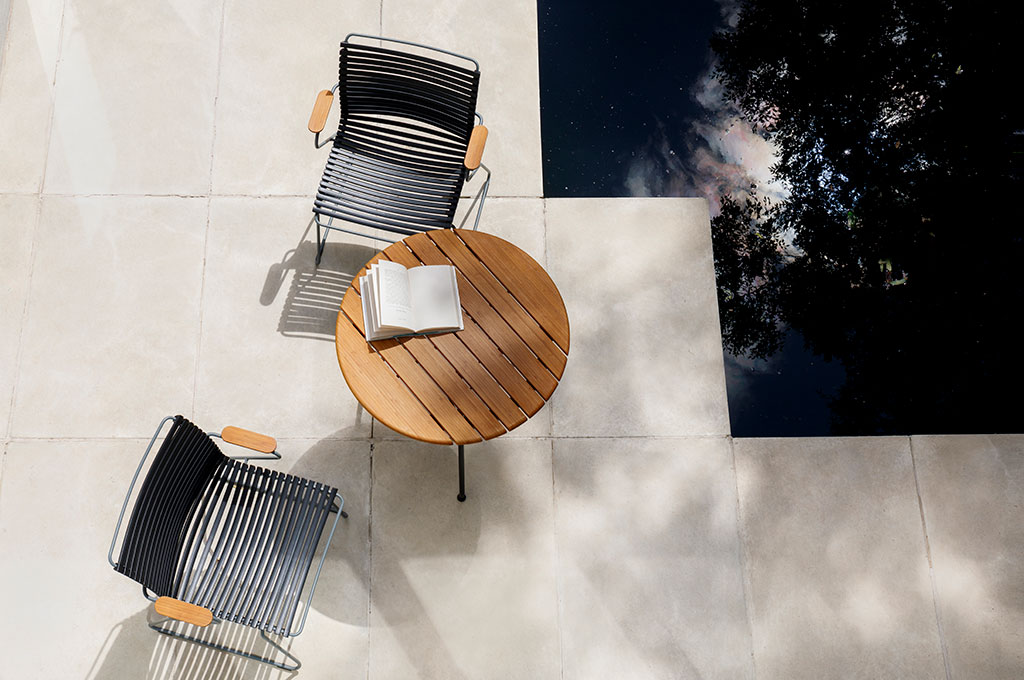 Combinations of powder coated metal or aluminum, beautiful bamboo, raw black granite and different versions of colorful plastic lamellas create a collection of Danish modern well-designed outdoor furniture.
The HOUE outdoor dining tables perfectly match all HOUE outdoor dining chair collections and can be mixed in many different ways.
Find more inspiration here: Outdoor tables and Outdoor chairs.
Danish design, craftsmanship & high-quality materials such as solid oiled oak, leather, recycled fabrics and linoleum forms the base of HOUE indoor collection. A mix and match collection that comes true in a variety of options. Most of us love dining together with people we like – enjoying our meal gathered around the dining table. To HOUE a nice dining setting brings people together.
FALK is our newest indoor design chair made in household plastic trash. FALK is perfect for both private homes and projects. Read much more about FALK here.